Skip to Content
Home Cleaning Services in Gardendale, AL
While D & C Alabama Landscape, Inc keeps your lawn looking nice and clean, have you thought about relieving yourself of the duty of keeping the inside of your home clean? We can help with that too through our residential cleaning services division. Schedule regular cleanings in the critical areas of your home and get time back for yourself!

Basic Cleaning Services
Our basic cleaning services cover all the common areas in various rooms of the home. With our package options, you can decide what gets cleaned to have a healthy house within your budget. We've outlined what's included in the basic cleaning services in each room below. Take a look and give us a call to discuss your needs.
Basic Kitchen Cleaning
Wipe and disinfect countertops, stove top, and exposed items on counters
Clean the exterior of the refrigerator, oven, cabinets, and dishwasher
Clean the interior of the microwave
Clean and disinfect the kitchen sink
Take out the garbage as needed
Wipe out garbage can
Vacuum floor, mop hardwood, and steam clean tile floor
Basic Living Room & Bedroom Cleaning
Dust and clean furniture, picture frames, and other décor
Dust and clean mirrors
Polish furniture as needed
Wipe down the tops of the washer and dryer
Wipe down any exposed countertops in the laundry area
Empty trash cans as needed
Vacuum, mop, or steam floors depending on the flooring type
Basic Bathroom Cleaning
Wipe down mirrors
Clean and disinfect tub and shower
Shine faucets and shower hardware
Wipe down vanity and exposed décor
Clean and disinfect the toilet
Take out the garbage as necessary
Vacuum, mop, or steam floor
Fold and hang clean hand towel if left upon arrival
Deep Cleaning Services
We offer deep cleaning services if you're expecting company, hosting a party, or think it's time to clean some of those hard-to-reach or neglected areas. This is a fantastic way to give your home a little TLC at the beginning of the season.
Deep Kitchen Cleaning
Includes all of the basic kitchen cleaning, plus:
Glass on doors cleaned on both sides
All door frames cleaned and detailed
Light switches cleaned and shined
Blinds, windowsill, and interior glass cleaned
All baseboards and doors cleaned and shined
Deep Living Room & Bedroom Cleaning
Includes all of the basic cleaning, plus:
Baseboards, doors, frames, and light switches cleaned and shined
All furniture cleaned and shined
All mirrors cleaned
Blinds cleaned and shined
Deep Bathroom Cleaning
Includes all of the basic bathroom cleaning, plus:
All countertops and exposed items cleaned and shined
Blinds cleaned and shined
All baseboards, doors, frames, and light switches cleaned and shined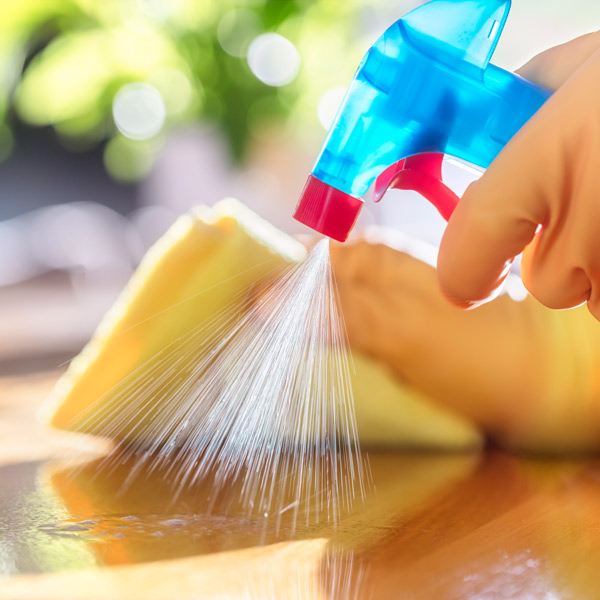 Add-On Options
You can add any of these home cleaning options to your package. Whether it's a one-time cleaning or a part of the regular routine, we'll ensure these get the attention they need when you package them into your cleaning service.
Light cleaning of carpets and upholstery
Cleaning and degreasing inside of the oven
Cleaning the interior of the refrigerator
Blinds cleaned and shined
Baseboards cleaned and shined
Grout cleaning
Wall cleaning on appropriate surfaces
Wiping down light fixtures and ceiling fans
Wiping down doors
We Do House Cleaning, So You Don't Have To
Hiring professional house cleaners is one of the simplest ways to reduce stress and free up your time for more important tasks. We offer safe and effective cleaning by a local, trusted team of experienced residential cleaners. Contact us for a house cleaning quote today.